Dear Max
You by now know that I can rabbit on about running, and the spirit of runners, and those who help on the sidelines. And with less than four weeks to go until Comrades, I'm starting to get quite emotional about it all, not to mention a bit petrified about everything else (the niggles, the undertraining, the extra weight, plus the weight of going in after not finishing last year).
Anyway, onto the good and heartwarming stuff… I came across an amazing story in The Mighty, about a woman, Kayley Drake, who has cerebral palsy, and who run her first 21km, the recent Oklahoma City Memorial Half Marathon, a tribute to the lives lost in the Oklahoma City Bombing in 1995. Every year, a group of local firefighters walk the half marathon — in full firefighting gear — to commemorate the first-responders who died fighting in national tragedies like the bombing.
Kayley was once told that she wouldn't be able to ever walk or lead a normal life.
The Mighty's post reads: 'Drake maintained a mostly steady pace throughout the first part of the race, picking up speed each time she noticed a firefighter approaching. This tactic worked well until she reached the final three miles and her energy began to falter. Around this time, she caught up with a group of firefighters from the Midwest City, Oklahoma, Fire Department who were walking together as a group. Caleb Bryant, one of the firefighters, said he could tell Kayley needed some support.
"It soon became clear that she was hurting pretty badly, and she began to drop behind us. I slid over and began to verbally encourage her…I told her to just stay with me. If she could just stay with us… that would be a goal she could attain.'
By the next half mile, Kayley dropped to one knee and physically couldn't get back up, and she thought she wouldn't finish. At that point, Bryant and Garrett Matlock, another firefighter encouraged her and helped her to the finish.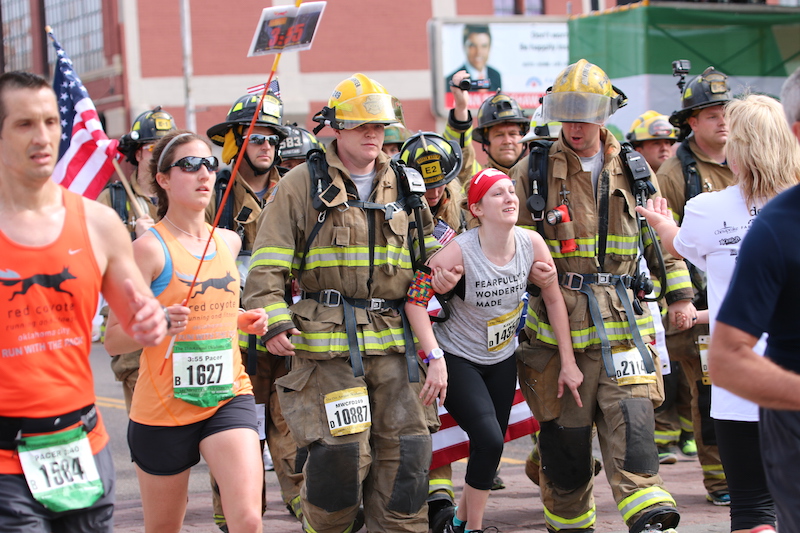 By the time Kayley crossed the finish line, the two firefighters walking with her had grown into a significant crowd. Each firefighter wanted to shake her hand following the race, Runner's World reported.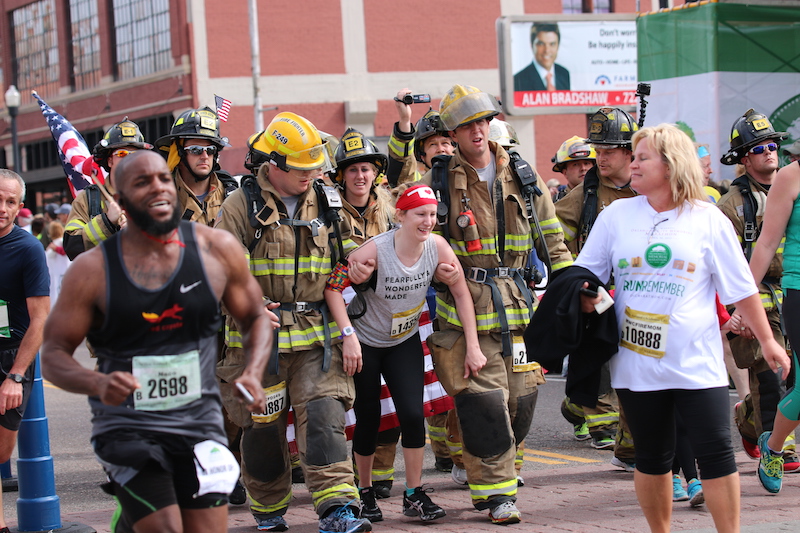 "We were just doing what anybody else would have done that day. We were in that particular place at that particular time," Bryant told The Mighty. "The incredible story is what Kayley overcame to accomplish her goal."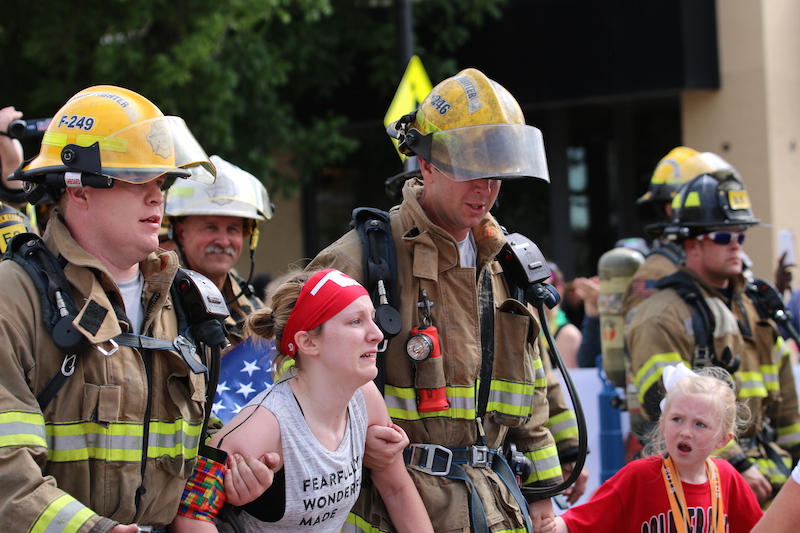 And that's my feel-good story for the week, one that reminds me of the kindness of some people, and how far determination and courage can carry us. May you experience, see and embody kindness and courage.
xMom
Photo credits: Traci Cook via The Mighty
Liked this post? Follow this blog to get more.